Afternoon, our flights are on schedule. Wow! But, Minneapolis is a large airport and my flight landed in "St. Paul" so I had to rush to meet Mom and Dad as they deplaned from Madison, WI. Tom had packed their pills, bags, a couple of Christmas gifts, and them off to the airport. The airport provided courtesy service for Mom and Dad to our next gate (it could have been Duluth) while I jogged behind, as the dutiful companion/bearer. I/we arrived just in time for pre-boarding and a quick call to Betty to say that we were off to Alaska.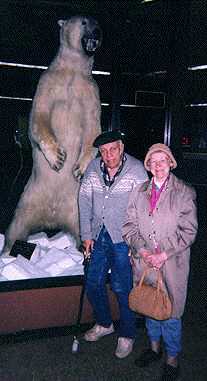 The bear at Anchorage Airport.
Mom is there too.
We arrived in Anchorage on schedule and, since the airport is much smaller than Minneapolis, no courtesy service to the terminal so Dad opted for show and tell with his spiffy new walker in lieu of borrowing a wheelchair from Northwest. It was a long walk. I parked Mom and Dad in the upper level of the terminal while I sought out the baggage claim--no mean feat. My bag arrived fairly soon, but since I didn't know exactly what to look for, it was a while longer before I retrieved Mom & Dad's bag.

Returning to find only Dad, I learned Mom had gone to the ladies' room but had not returned. The ladies' room, just around the corner, was declared Mom-less thanks to a kindly user I caught on the way in. A trip to the baggage claim area revealed a kindly, bewildered lady watching for luggage at a now empty carrousel. Having found Mom , I learned that she hadn't been to the ladies' room, so we had another stop before taking the elevator back to Dad.

I had summoned the hotel courtesy bus prior to returning to the missing Mom situation, and was pleased to find it still waiting at the front entrance. The bus whisked us to the Barrett Inn, where we were greeted by a rainy evening in Anchorage and warm welcome from Hubert McCallum at the hotel office. A short trip to our room, and a six pack of Bud courtesy of Hubert, and we were in for the night. A couple of telephone calls, war stories, and greetings for/from Dorothy after she successfully tracked down her husband Hubert.