This program was made for me. I'm a terrible speller. I rely on spell checking programs and this one keeps an eye on me when I'm typing and beeps when I have misspelled something. I can use it with any program (and e-mail) so I don't look like too big of an idiot when I'm typing. Also, when my fingers move off the proper keys--I know immediately. Other features make life easier. I've gotten to the point where I frequently don't use the application's spell check feature since I've installed Spell Catcher.

Spell Catcher is a Macintosh system control panel, it loads on start-up so it is available for virtually any application. Interactively it checks spelling while you type emitting a beep, quack, eep, or whatever sound you select when it thinks you may have misspelled something. It could be a proper noun , an errant finger, or a misspelled word--clicking on the "!" to the left of "Help" on the menu bar, or "Command [" opens a dialog box with suggested spellings, a Thesaurus, and a list of modifications you can select including capitalization, spacing, quotes, and dashes.

It does all the above things, and keeps track of material you type and don't save--in the event of a system crash--providing that you turned on the "Ghostwriter" feature in the preferences. It will even suggest accented words if you ask it to. It won't correct your grammar, or type for you but once you have it installed you'll wonder how you got along without it. Especially when you are online writing e-mail or participating in live chat rooms etc.

System Requirements:
(From the useful and well written 82 page manual)
Macintosh SE or Better
System 7.0 of higher
4-8 Megabytes of memory (RAM ) for small installation and 8 or more for complete install.
1.5 megabytes of hard disk space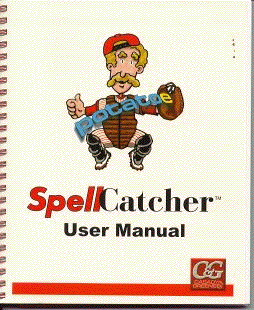 Documentation:
User Manual--82 pages wirebound (to lie flat)
Quick Reference--6 panel folder covering primary features
Spell Catcher Installation Notes:--2 pages with historic information for Thunder 7 owners and trouble shooting suggestions.
Spell Catcher for Macintosh sells for $49.95 however there is an offer for Spell Catcher for Macintosh Electronic (Downloadable only) for $43.95 on the Casady & Greene website along with a number of bundles you may be interested in. Purchasers of Thunder 7 are entitled to upgrade to Spell Catcher for $19.95 plus $7.95 for shipping and handling. Competitive Upgrades for purchasers of Spelling Coach Pro or Spells Well are entitled to upgrade to Spell Catcher for $29.95 plus $7.95 shipping and handling and any applicable California sales tax.
Steve Webber
January 1999