The Covered Bridge Tour
November 8, 2003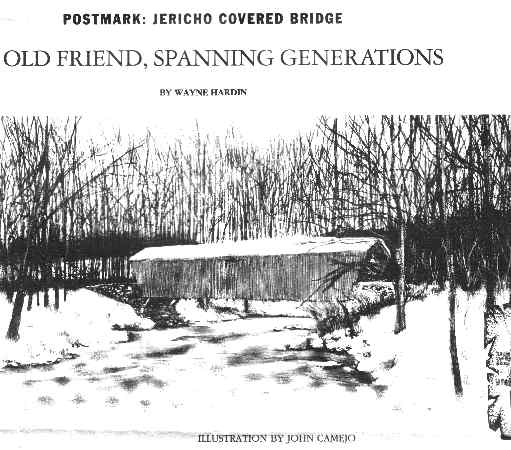 An article I clipped from the Baltimore Sun Magazine entitled An Old Friend, Spanning Generations By Wayne Hardin appearing in the January 31, 1993 issue, conceived the Covered Bridge Tour. The story illustration above featured the Jericho Covered Bridge. Always looking for an excuse to go for a motorcycle ride I thought this was a perfect choice. The article concluded with this listing: Jericho is one of six covered bridges still standing in the state.

The others are:


Gilpin's Falls

, over Northeast creek. It's next to Maryland Route 272, near North East in Cecil County.

Fair Hill

, over Big Elk Creek. It's on the state's Fair Hill Natural Resource Management Area. North of Route 273 in Cecil County.


Loy's Station

, over Owens creek. It's on the old Frederick Road off U.S. 15, north of Creagerstown in Frederick County. It was closed after an August 1991 fire and will be rebuilt.


Roddy Road

, over Owens Creek. It's on Roddy Road off U.S. 15 near Thurmont, in Frederick County.


Utica

, over Fishing Creek. It's on Utica road, off U.S. 15, near Utica in Frederick County.


Source: Marcia Miller, administrator of architectural research, Maryland Historical Trust.
On September 6, 2003, I rode out to the Roddy Road Bridge and Loy's Station Bridge near Thurmont, MD. I spoke with another motorcyclist who gave me directions to the Utica Bridge.

On October 12, 2003 I finished a Riders Edge Examination and rode out to the Jericho Bridge. It seemed that 4 of the six bridges could be visited in one tour of about 170 miles.


I e-mailed the Baltimore Area Instructors I work with at Seaton Keogh School and the November 8, 2003 Covered Bridge Tour was born. Initially we hoped to have a group of six or 8 riders with several passengers but as weather cooled and other things came up, it was Joy and Drew Giordano, Sherry and Paul Certeza, and I that showed up at the Golden Ring McDonalds just off Philadelphia Road, (MD Route 7) just outside I695 at 9:00 November 8. Did I say it was cool?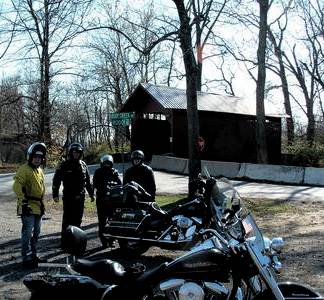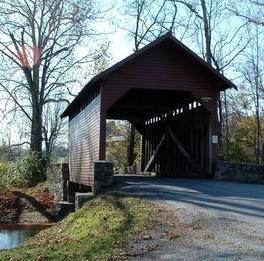 Steve, Drew, Joy and Sherry at Roddy Road Bridge Roddy Road Bridge
At 9:45 with the temperature at nearly 50 degrees we headed East on Route 7 toward the Jericho Bridge. We arrived a little after 10:00 and it was suggested we head directly to the Thurmont area bridges.

Heading directly across northern Baltimore county and Carroll county we picked up 140 in Westminster and passed through Taneytown to the Monacacy River where we turned left and took back roads to the Roddy Road Bridge. We arrived at the Bridge a little after noon, took some pictures and headed into Thurmont for lunch.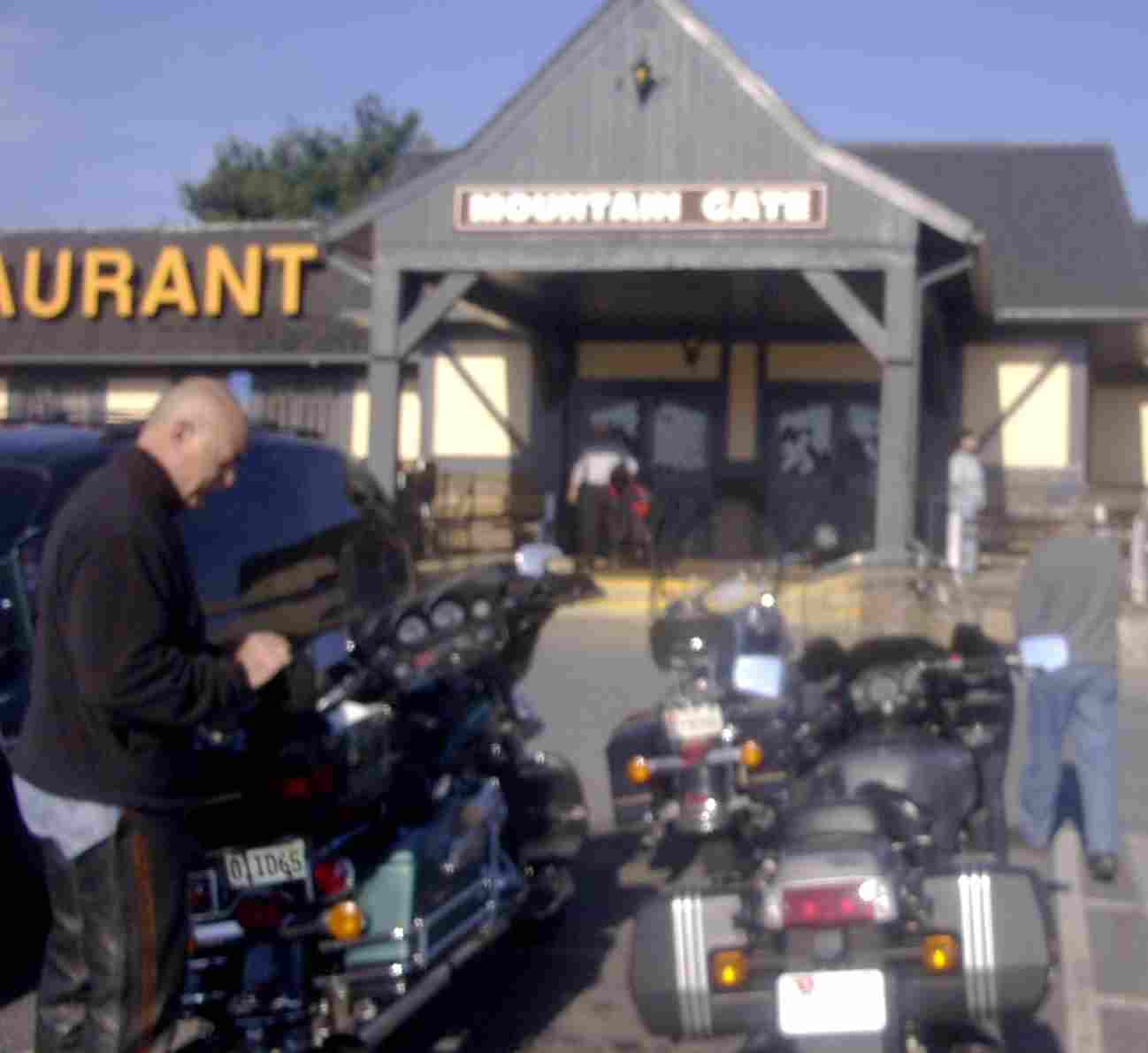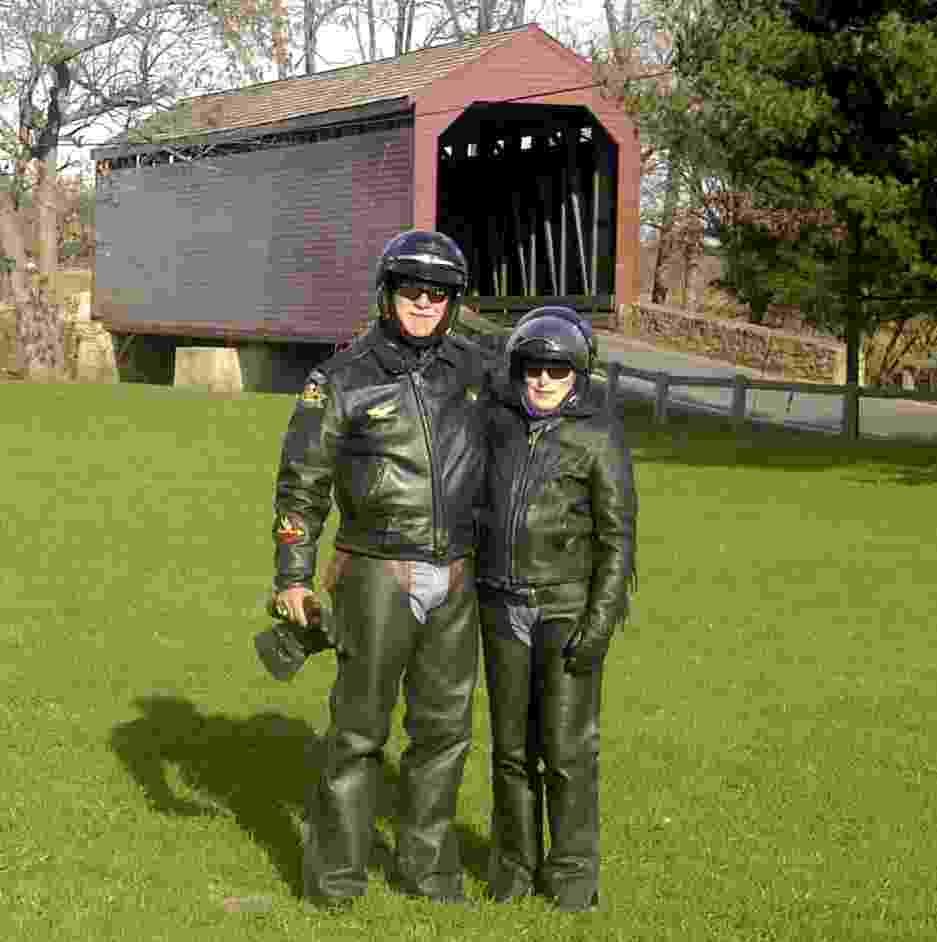 Mountain Gate Restaurant Thurmont Drew and Joy at Loy's Station Bridge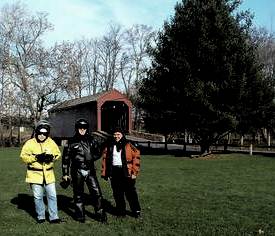 The Drivers: Steve, Drew and Paul at Loy's Station
A leisurely, filling, lunch at the Mountain Gate Restaurant buffet from 12:30 to 2:00 was satisfying. We headed east on MD 77 to Old Frederick Road and turned right to Loy's Station Bridge.
More pictures and we headed south on Old Frederick Road to Utica Road and turned right to the Utica Bridge. It was 2:45 and a total of 102 miles from the Golden Ring McDonalds.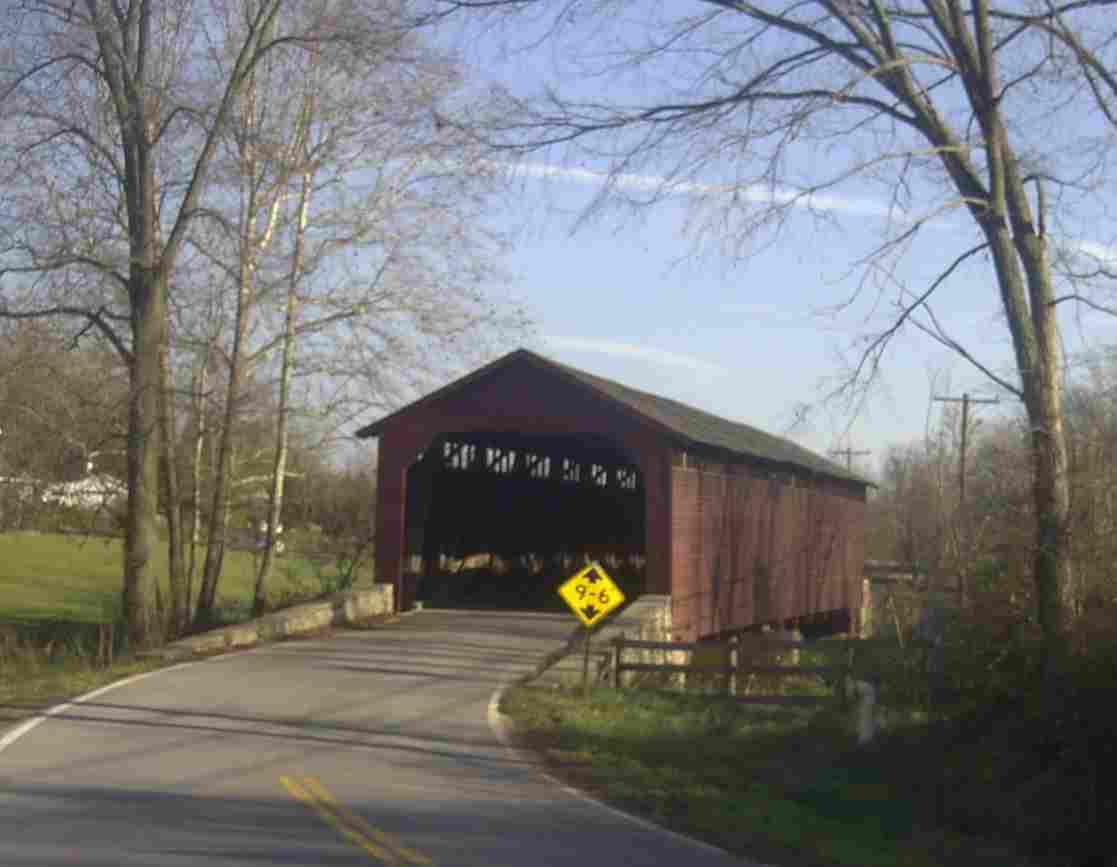 Utica Bridge Frederick County Maryland
We continued south toward Frederick on Old Frederick and then took Devilbiss Bridge Road East to 194 North to pick-up 550 East to Libertytown and 26 East (Liberty Road) which we took back to Randallstown area, McDonough Road, Greenspring Valley Road, and Joppa Road back to Towson where I waved goodbye to Drew and Paul and arrived home at about 4:30 with a round trip of 168 miles. It was nice to be warm again.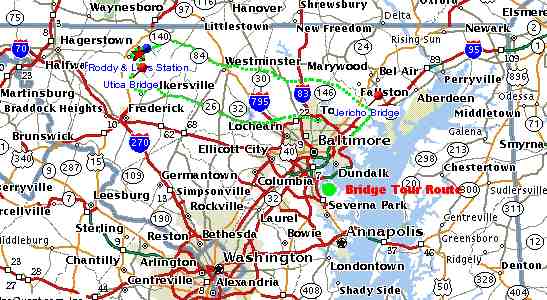 If you would like basic route details e-mail me from The Webb Page