Since Kawasaki introduced the Concourse in 1986, I've always thought I'd like one. In fall of 2001 saw a 1999 for sale at a great price in Delta, Pennsylvania, but I was too late. Since then I had been watching the classifieds and checking the internet for a likely candidate. In the spring of 2002 I was surfing the internet and found a 2002 for sale. It had only 1,200 miles on it and the owner decided that he had better things to do with his money then pay for a new motorcycle. I contacted him and found that WVJeff lived in Illinois about 75 miles southwest of Chicago. I bought it. After sending a certified check to Jeff and his bank I received the title and registered it in Maryland.

The big day came on May 22, 2002. With my riding gear, my MD tags and a one-way ticket on Southwest Airlines to Chicago Midway I was off to the airport. Not pleased, Betty did drive me to BWI and, since it was the first time I had flown since my June 2001 trip to Madison, WI, I allowed extra time (2 hours) for BWI security. I checked my riding suit and carried on my helmet and gloves, a change of underwear, and my Maryland tags. After being thoroughly searched at the entrance to the SW concourse I was also searched again, an hour and a half later, prior to boarding at the gate, along with the grandmother and her 6 year old granddaughter.

Once onboard, the flight was uneventful and I arrived in Chicago about noon. I met Jeff at the baggage claim area and learned that he and his friend had brought my bike to the airport and it was awaiting me in the parking garage. He gave me the cook's-tour, the owner's manual, and the keys and watched as I put on my gear and motored around the parking garage a couple of times. We affixed my MD tags and said our good-bys about 1:30.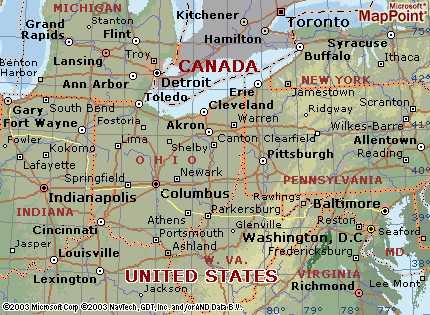 The weather was perfect. After a little clutch/shift practice in a neighborhood near Midway I set out. Going north--I got headed in the proper direction and proceeded south on Cicero Avenue until it got nasty due to road construction. I worked my way over to the Dan Ryan Expressway (I90/94) and headed to Indiana and I65 South. I reached State 24 about 100 miles from Midway and stopped for fuel (4.5 gals) and a phone call to Betty that I was on my way.

I took 24 east across central Indiana and then headed south. I picked up I70 east and got almost to Columbus, OH when I stopped for gas and another phone call as the sun was setting. I booked a room just south of Columbus and hit the sack.

Early on Thursday I headed southeast from Columbus toward Athens, OH and then picked up route 50 due east to Parkersburg, WV. Just west of the bridge, I hooked up with John Powell on a 2001 Concourse headed east. We stopped at a Shoney's on Route 50 just out of Parkersburg and agreed to ride together. Another call to Betty.

It was beautiful. We stopped for fuel in Grafton, WV and had an absolutely spectacular ride to Western Maryland on route 50. Very little traffic and perfect conditions. John Denver got it right on the money, "Almost heaven West Virginia." Bikes were great we must have looked like a Kawasaki commercial. Will never forget the ride.

I headed north to Cumberland, MD on MD 202 and John headed south on 220 (John lives in Harrisonburg, VA) Anyway, when we split up the trip wasn't nearly as enjoyable. I took I68 E and picked up I70 S to Hagerstown, MD and then the back roads (MD 64 and 77) past Camp David, Thurmont, and then took MD 140 from Westminster into Baltimore just in time for a rush hour back-up. It was sufficient to see the temp gauge get beyond the halfway point. It would cool off again once I got moving, but since my other motorcycles have all been air/oil cooled, I did not have a temperature gauge, I am inclined to believe knowing how hot your bike is getting is not an improvement.

I had the bike inspected Friday morning and mailed in my certificate on Tuesday. Ran the gas tank to reserve just to see where it was, and put in 6.5 gallons before heading home after work on Friday. I took the BMW for a ride on Saturday and the Concourse out for a couple of errands. I like them both but that day in the mountains of WVA really seals it for the Concourse. I'm afraid I'll have to clean out the garage to make room for two, for a while at least.

The biggest problem experienced was buffeting on Interstates with the trucks and my ankles going to sleep after a couple of hours.