Western Maryland August 2001


I have always wanted to ride a motorcycle to Western Maryland. In 2001, the Maryland Motorcycle Safety Program initiated a Ride Around Maryland campaign. The plan was to ride to various locations within Maryland on a motorcycle, take photographs to show that you were at that destination, and completes the tour of designated stops by the end of Labor Day, September 3. The stops included Oakland, in Garrett County, North East in Cecil County, Ocean City, Annapolis, and St. Mary's City in Calvert County.


It was Saturday, August 18th, 2001 I was running of time. I decided if I was to complete the tasks I had better get started. I gassed the BMW and headed west to Frederick. From Frederick I proceeded west to Harper's Ferry, West Virginia, and then headed south to pick up VA 7 West in Virginia. Route 7 became US 50 in Winchester and headed west across West Virginia. Traffic cooperated, as I was able to make very good time. I seemed to be at the front of the pack as I approached various mountains and had a wonderful ride. I turned north on Maryland 219 and pulled into Oakland, about 1:30 in the afternoon.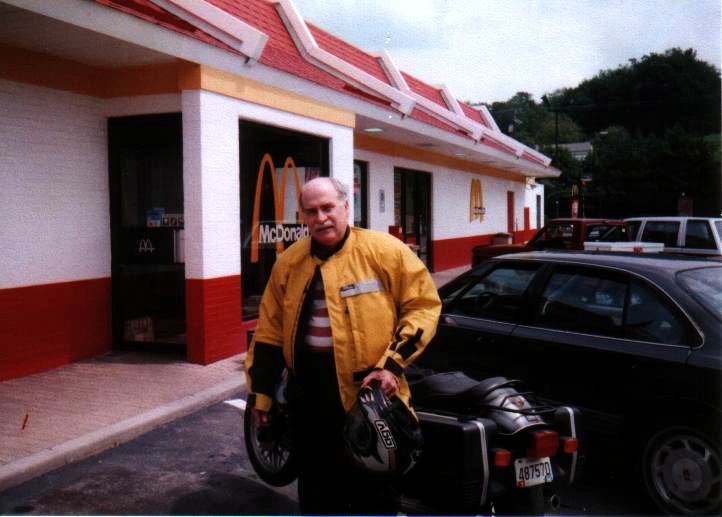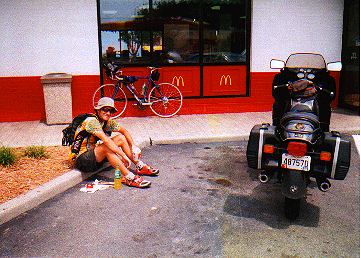 Two bikers and two bikes?
I stop at McDonald's for lunch and while there I saw a young man on a bicycle looking at a road map. I asked where he was headed and he said he wanted to get to Cumberland by night. I asked where he had started and he said Oregon--on July 8th. He was headed for Rehoboth, Delaware and hoped to complete his journey by the end of next week. He planned to ride to Annapolis and cross over the bridge to the Eastern Shore. I suggested he check with the State Police, as he could not ride his bicycle and did not know if he would be able to get across the bridge. I suggested it might be easier going if he avoided the Baltimore Annapolis area and proceeded directly to Elkton and ride down the eastern shore.


We took each other's pictures and I headed north to pick up I68 East and headed for Hagerstown. I was signed reserve going through Cumberland and stopped for gas about halfway to Hancock. I bought 9.95 gallons and showed 279.9 miles on the odometer. When I reached Hagerstown, I headed east over the Catoctin Mountains on Maryland 64 and Maryland 77. I continued on Maryland 77 from Thurmont to Westminster, and reached home early that evening.

My round-trip mileage was just about 400. Traffic was not an issue for most of my trip and was very light in the mountains of West Virginia. My ride from Hagerstown to Thurmont was not as memorable, but any trip through Cunningham Falls State Park is fun.


The next day, Sunday, August 19th, 2001, I taught an ERC at Bob's BMW in Savage, Maryland, and had many fresh memories of a wonderful ride through West Virginia and Maryland.


Oakland, MD 1 down and 4 to go.

(see pink route on map below)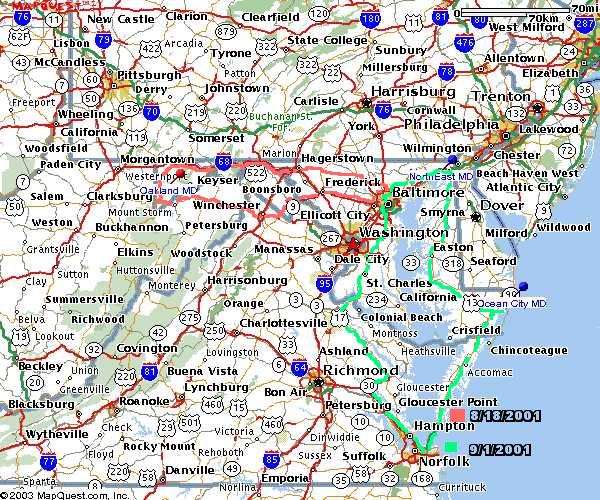 Ride Around Chesapeake Bay September 1st, 2001
(see green route on map above)

Ok, I am running out of time. I have been to Oakland, but I still have North East, Ocean City, St. Mary's City, and Annapolis to complete my tour goals. Saturday morning, 10:00 am, let's go. Still had nearly a full tank of gas so I headed north to Bel Air, Maryland and then took US 1 across the Conowingo Dam on the Susquehanna River and turned east on Route 222 through Port Deposit. I turned north on US 40 and arrived at North East about lunchtime. I stopped at McDonald's for a snack and a couple of photos of the North East welcome sign and continued north on 40 turning south on Maryland 213.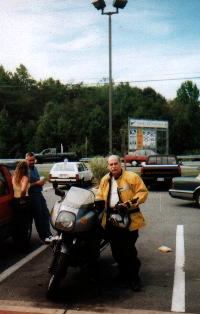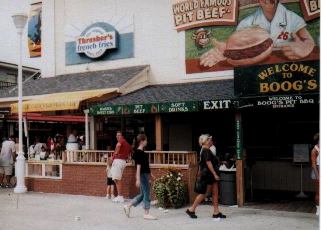 North East Mac's Boog's at Ocean City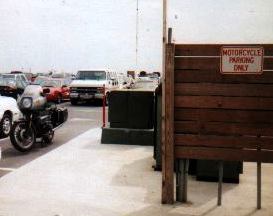 Motorcycle Only Parking in OC
I took 213 all the way to 50 East where I joined the Labor Day weekend traffic to Ocean City. It was an enjoyable ride on 213, but I'm sure it took longer than if I had taken 301 South. By the time I reached Ocean City, I needed gas. I filled up just east of the bridge, 5.854 gallons and 271.8 miles on the odometer.


I stopped at Boog Powell's Pit Beef Stand in Ocean City and hung out until nearly 4:00. I have always wanted to ride round Chesapeake Bay and decided that today was the day. When I asked how far it was too Norfolk, Virginia, I thought a hundred miles was too far. Wrong.


I had a very pleasant ride south on route 113, but encountered much more traffic as I proceeded south on route 13 through Virginia's Eastern Shore. I crossed the Bay Bridge-Tunnel into Norfolk around 6:00. Eventually I headed towards Richmond, VA, on I64. Tired of interstate traffic, I turned north on route 30 and the sun went down before I reached Fredericksburg.

Again, the two lane was the best ride. Traffic was light, but the bugs began to splatter my face shield. I reached 301 North and made a right towards the Potomac River. I stopped again for gas and called home to alert Betty that I was fine, but still about a hundred miles from home. Not happy. I had just bought 5.875 gallons of gasoline, but covered 281.2 mi. since my fill up in Ocean City. I scraped the bugs from my face shield and headed across to the Potomac in a beautiful moonrise.

Back in Maryland, I continued north on 301 and picked up US 50 headed towards Annapolis. Ok, I have to scratch St. Mary's City and Annapolis from my tour; it is approaching 10:00! Heading north on I67 I get back to Towson by 11:00. I had just completed a 600 mile circuit around the Chesapeake Bay. Ok, it took me 13 hours but I had many memorable miles and a better than average roast beef sandwich in Ocean City.